written by bendygirl at Tuesday, May 20, 2008
(Crossposted from CtW Connect)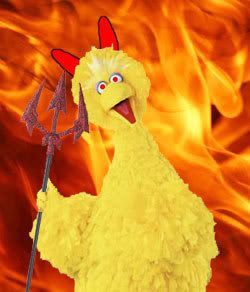 ... "U" for "Unfair", that is.

The story begins on May 9, when organizers from the United Farm Workers were startled by the situation they found at the cherry orchards of Kyle Mathison Orchards Inc. in Shafter, California:




Farm labor organizers say they have discovered more than 100 migrant fruit pickers living in a Central Valley cherry orchard where they have been sleeping outdoors and bathing in drainage ditches.


Find out the rest of the story (including where Big Bird comes in, and what you can do to help) after the jump...


United Farm Workers representatives say they found the men, women and teenagers camping in the orchards west of Shafter on Thursday.

Union organizer Armando Elenes says many of the workers traveled from Washington state at the request of Wenatchee, Washington-based Stemilt Growers Inc.

The company denies involvement, but public records show that a partner in the company owns the land.


Mathison Orchards referred inquiries to Stemilt Growers, a company that packages and markets its produce. When asked why Mathison would have workers sleeping out in the open and bathing in irrigation water, a Stemilt spokesperson responded that
the workers knew what they were getting into
:


Stemilt spokesman Roger Pepperl said the workers had access to bathrooms and fresh well water, and that there was "no agreement or suggestion" that the workers would be given housing.

But
interviews with the workers tell a different story
:

One of the farm workers said, "I asked where do we shower? And he said 'There's the water hole.' ... and there's ducks and fish! I asked, 'We shower there?! Where do the women shower?!' He said the same place."

Another farm worker said, "I came from Washington state. We came here to work, but they haven't treated us like they should and we're a little worried because we may not have enough money to go back to Washington."

Ever since the discovery was made, the UFW has been working to secure housing for these workers. But the company is maintaining its position that it did nothing wrong, despite all evidence to the contrary.
So why did I lead this item with a picture of Big Bird gone bad?
Check out the home page of Stemilt's Web site
: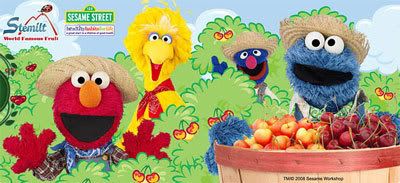 It turns out that Sesame Workshop, the producers of the iconic kids' show Sesame Street, have a partnership with Stemilt -- a partnership that allows Stemilt to use Sesame's popular Muppet characters to promote its products.

So now the UFW is asking a good question:


Why would Sesame Street want their characters and trademark name associated with a company like Stemilt?

Sesame Street is known as a show that builds the character and values of young children. Does Sesame Street want to be associated with the values represented by Stemilt?
Like I said, it's a good question. And if you agree that cuddly Muppets don't really mix with mistreating farmworkers,
they've set up an online action page where you can send an e-mail to Sesame Workshop asking the question to them
.